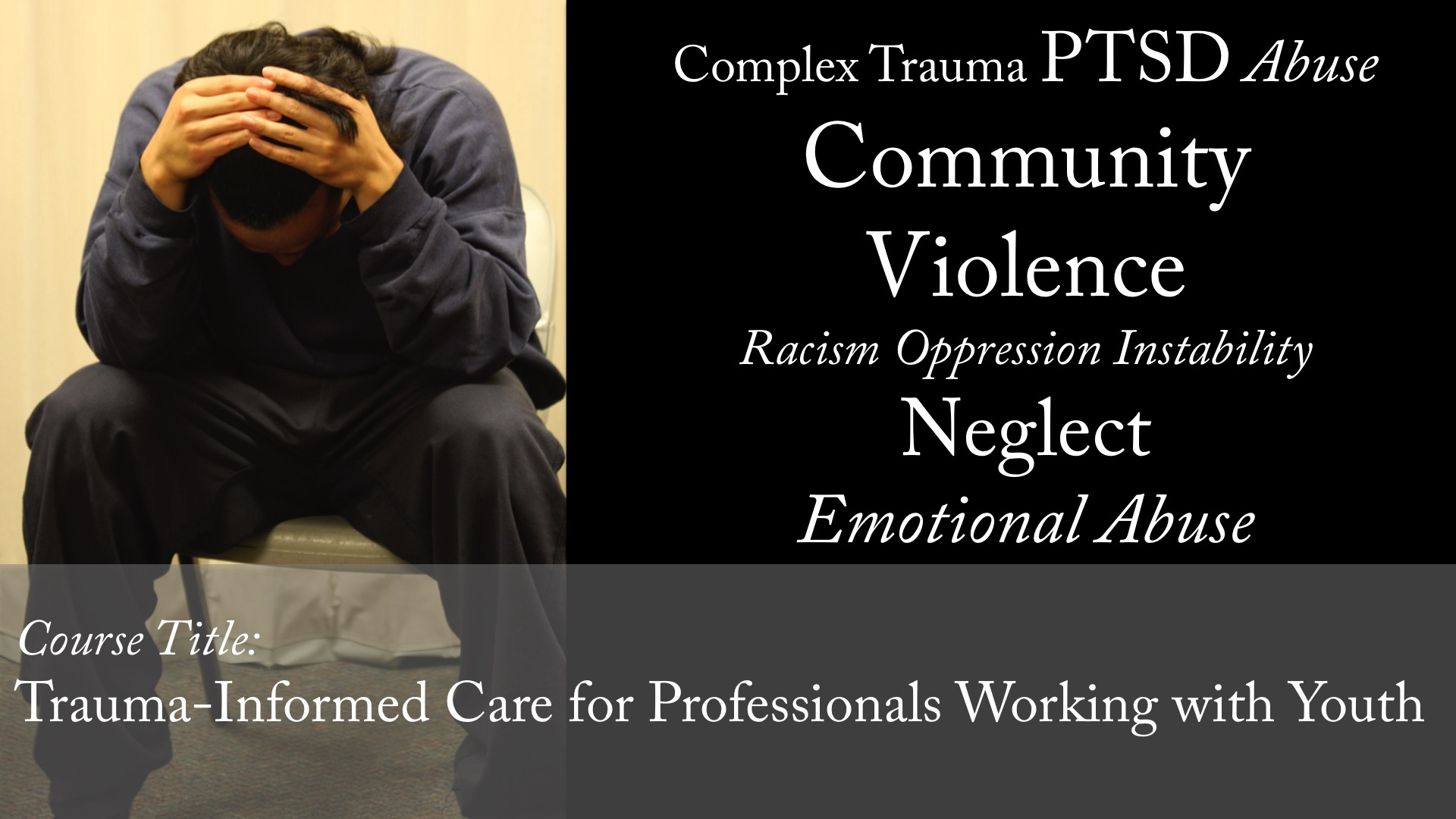 Trauma-Informed Care for Professionals Working with Youth
Now recruiting for our January 2018 cohort! Trauma-Informed Care for Professionals Working with Youth is a completely online, semi self-paced, and affordable course designed to teach education, mental health, probation, and any other professionals working with young people the basics of a trauma-informed approach: What trauma is, how to identify it, and some basic action steps to engage trauma skillfully. Save 18% when you register during the early-bird discount period! See below!

What Course Alum Are Saying…
Course Objectives and Instructor
Define the various types of trauma
Discuss the current diagnostic criteria for trauma-related disorders and their limitations
Review the effect of trauma on the brain and central nervous system (and how this affects learning, self-regulation, and subsequent behavior)
Identify how symptoms of trauma may manifest for youth
Review the therapeutic qualities of adults necessary to skillfully enage youth affected by trauma
Discuss the importance of both an individualized and collective approach to healing trauma
Demonstrate at least 3 practices that help adults manage their emotions in the face of triggered trauma
Demonstrate the need for self-care in the wake of compassion fatigue, burnout, and vicarious traumatization
Sam Himelstein, Ph.D., works as a Licensed Psychologist (PSY25229) in the the Chemical Dependency program at Kaiser Permanente with teens and their families, in private practice in Oakland, CA, researches the efficacy of mindfulness-based interventions with incarcerated and underserved adolescent populations, is an author of multiple scholarly journal articles and two books, travels the country speaking at conferences and conducting professional trainings, and is the founder and president of the Center for Adolescent Studies. Dr. Himelstein is passionate about training professionals from multiple disciplines in creating authentic, healing relationships with adolescents that contribute to positive outcomes. A formerly incarcerated youth himself, Dr. Himelstein was privileged to change his life from a path of drugs, violence, crime, and self-destruction to that of healing and transformation. His mission is to help young people become aware of the power of self-awareness and transformation, and train professionals with similar interests. Learn more about his philosophy and approach in his books: A Mindfulness-Based Approach to Working with High-Risk Adolescents (Routledge, 2013), and Mindfulness-Based Substance Abuse Treatment for Adolescents: A 12-Session Curriculum (Routledge, 2015).
Continuing Education (CE) Information
This course will meet criteria for continuing education (CE) for psychologists in the United States, and LMFTs, LPCCs, LCSWs, and LEPs in the State of California. The Center for Adolescent Studies is approved by the American Psychological Association to sponsor CE for psychologists. The Center for Adolescent Studies maintains responsibility for all programs and its content. Please note: If you are a non-psychologist mental health professional from a state outside of California, check with your licensing committee as many accept CE from APA approved sponsors. The Center for Adolescent Studies has a current application under review with the Association of State Social Work Boards (ASWB) and will be pursuing credentialing from the National Board of Certified Counselors (NBCC) and other mental health CE accrediting agencies. Teachers seeking professional development (PD) please get this course approved by your school board. For more information regarding CE/PD of this course and the Center for Adolescent Studies, click here.
Wait! Bundle This Course and Save 30%
Check out our current deal for bundling this course with the Building Authentic Relationships (BARs) with Teens online course–an extension of the relationship-building approaches in this course. Save 30% when you register for both courses up front! Learn more.