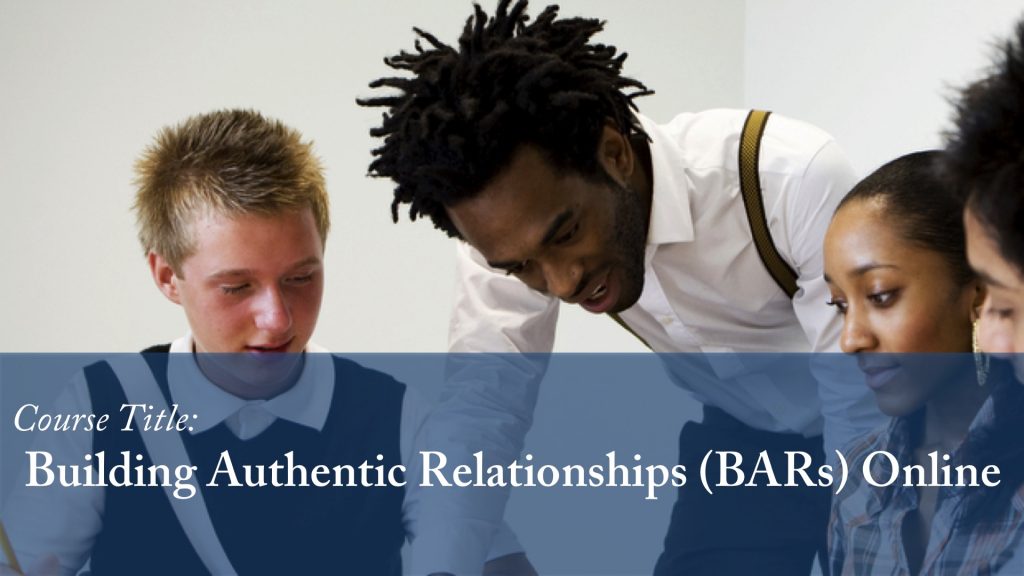 Building Authentic Relationships with Teens Online Course
The Building Authentic Relationships (BARS) online (video-based) training is a 6-skill, self-paced training on how to build authentic relationships with adolescents. This course spans disciplines and is applicable to those in the mental health, health, probation, and education professions and more! This training overviews how to develop genuine relationships; how to use self-disclosure skillfully, how to deal with resistance and set health boundaries, and presents time-tested techniques that bring adults and adolescents closer.
Learning Objectives
Define deep listening and its relevance to working with adolescents
Identify 5 aspects of deep listening
Define skillful self-disclosure
Demonstrate examples of skillful self-disclosure
Review parenting styles and how they relate to boundary setting schemas
Present a method for setting healthy boundaries with adolescents
Define resistance as a protective mechanism
Present a 3-level model (pyramid) for working with resistance
Review basic counseling skills that motivate adolescents
Demonstrate the need for self-care
About the Instructor
Sam Himelstein, Ph.D., works as a Licensed Psychologist (PSY25229) in the the Chemical Dependency program at Kaiser Permanent with teens and their families, in private practice in Oakland, CA, researches the efficacy of mindfulness-based interventions with incarcerated and underserved adolescent populations, is an author of multiple scholarly journal articles and two books, travels the country speaking at conferences and conducting professional trainings, and is the founder and president of the Center for Adolescent Studies. Dr. Himelstein is passionate about training professionals from multiple disciplines in creating authentic, healing relationships with adolescents that contribute to positive outcomes. A formerly incarcerated youth himself, Dr. Himelstein was privileged to change his life from a path of drugs, violence, crime, and self-destruction to that of healing and transformation. His mission is to help young people become aware of the power of self-awareness and transformation, and train professionals with similar interests. Learn more about his philosophy and approach in his books: A Mindfulness-Based Approach to Working with High-Risk Adolescents (Routledge, 2013), and Mindfulness-Based Substance Abuse Treatment for Adolescents: A 12-Session Curriculum (Routledge, 2015).